UPCOMING EVENTS
The Piedmont SCTE now enters our 29th year! Stay tuned for updates as we look to complete another successful year!
Register now for upcoming Technical Session in Durham by clicking here (email to register@piedmontscte.org)
Or register via the National SCTE Website by clicking here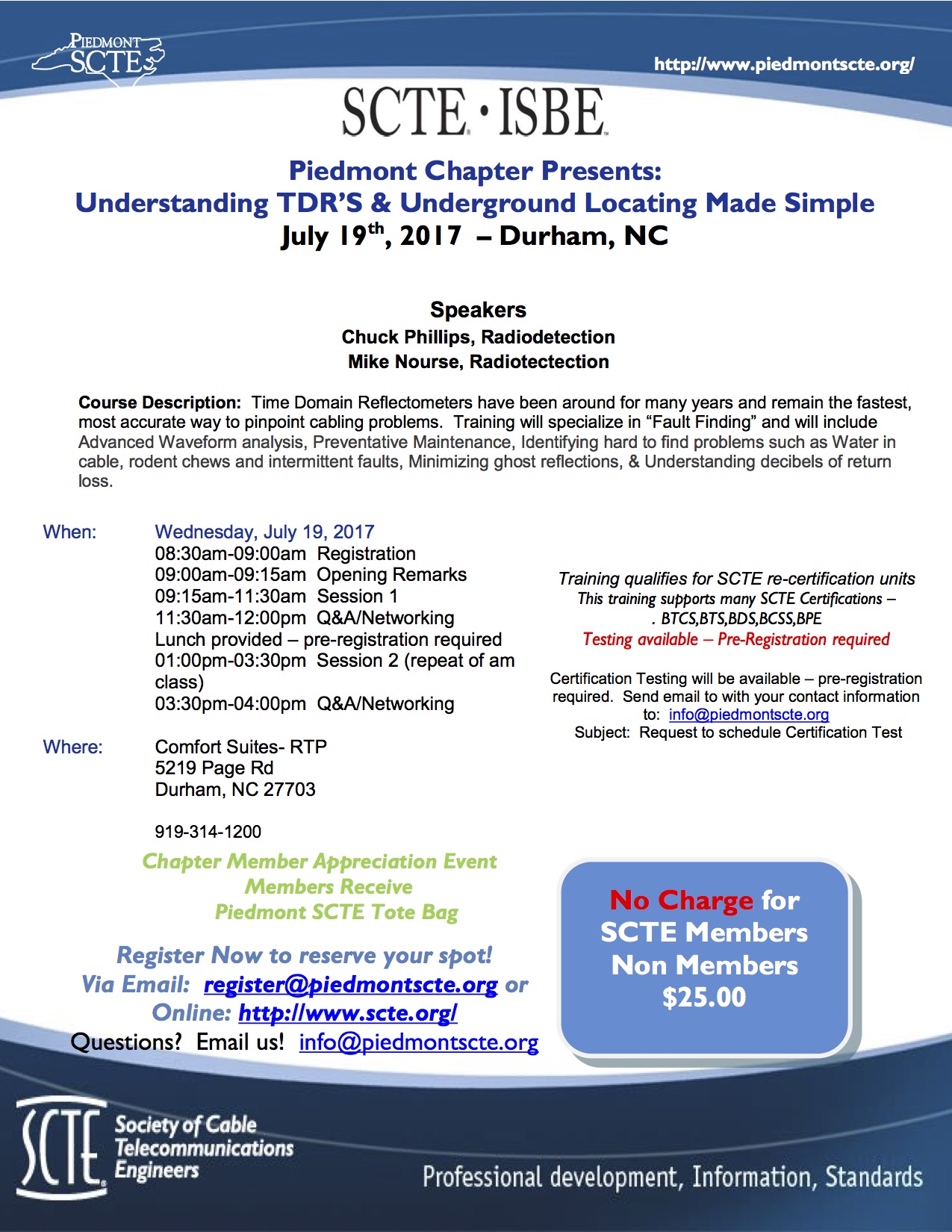 Questions? Email us by clicking here (email to info@piedmontscte.org)
Date
Topics / Event
Location
January 18, 2017
Perfecting Home Certifications – Connector & Troubleshooting Techniques
Charter Communications
900 Four Lakes Drive
Matthews NC 28105 (Map)
March 15, 2017
Advanced Hub to Home Troubleshooting Techniques
Charter Communications
721 N. Regional Road
Greensboro, NC 27409 (Map)
April 5-6, 2017
SCTE Chapter Leadership Conference
Denver, CO
May 17, 2017
13th Annual Piedmont SCTE Golf Outing (Golf Registration Form)
Springfield Golf Club – 639 Hambley House Lane, Ft. Mill, SC 29715 (Map)
May 18, 2017
Broadband Technical Exhibition, Vendor Day, & Cable-Tec Games
Embassy Suites Charlotte/Arysley – 1917 Arysley Town Blvd., Charlotte, NC 28273(Map)
May 18, 2017
Annual Technical Exhibition Luncheon & Keynote Speaker
Embassy Suites Charlotte/Arysley – 1917 Arysley Town Blvd., Charlotte, NC 28273 (Map)
July 19, 2017
Understanding TDR'S & Underground Locating Made Simple
Comfort Suites RTP – 5219 Page Road, Durham NC 27703 (Map)
September 2017
TBD
TBD
October 17-20, 2017
SCTE Cable-Tec Expo 2017
Denver, CO
November 2017
TBD
TBD
Let us know of any topics you'd like to see added.

Presentations from Chapter Sessions
November 2016 – Advanced Wireless Solutions – Where We've Been and Where We're Going
Current State of WiFi – Leigh Chinitz, Casa Systems
How LTE-U will benefit the Cable Industry – Jayasheel Shetty, Nokia
July 2014 – CCAP: Are You Ready? & DOCSIS 3.1 Overview
John Downey, Cisco – DOCSIS 3.1 Overview
Gerry White, Cisco – CCAP: Converged Cable Access Platform
Kevin Taylor, Comcast – CCAP Encryption – Integrating CCAP Into the Video Control Plane
January 2014 – Troubleshooting Techniques and Home Certification
Tony Holmes, VeEX – Home Cert & Troubleshooting Techniques
November 2013 – All About PON (Passive Optical Networks)
EPON – Growing Your Business
Understanding PON Technologies – Arkin Aydin, Alcatel-Lucent
DTI – Capacity Engineering – Bob VanSickle, Deployment Technologies Inc.
July 2012 New Technologies Appearing in the Commercial Fiber Access Network
Jorge Figueroa – Introduction to EPON
Jorge Figueroa – DPoE on the MSO Network
January 2012 DOCSIS 3.0 Planning and Troubleshooting Session
Brady Volpe – DOCSIS 3.0 Troubleshooting
John Downey – Planning for DOCSIS 3.0
September 2011 Green Technologies Session
Mark Dzuban and Daniel Howard – SCTE Update and Presentation
Dan Cooper – SEMI and SMS 001, 002, and Future
Craig Young – Renewable Resources in DC Power
Mark Alrutz – Commscope Fuel Cell Technologies
Commscope – 5KW Fuel Cell Datasheet
November 2011 DOCSIS 3.0 Planning and Troubleshooting Session
Brady Volpe – DOCSIS 3.0 Troubleshooting
John Downey – Planning for DOCSIS 3.0 – Upstream Considerations
John Downey – Planning for DOCSIS 3.0 – Downstream Considerations
Previous Year(s) Meeting Information Archive
2016 Schedule
| Date | Topics / Event | Location |
| --- | --- | --- |
| 20-Jan-2016 | Digital Signal Leakage & LTE | Time Warner Cable – 900 Four Lakes Drive, Matthews NC 28105 (Map) |
| 16-Mar-2016 | Understanding Fiber Optics to the Premise | CommScope – 8000 Purfoy Rd, Fuquay Varina, NC 27526 (Map) |
| April 13-14, 2016 | SCTE Chapter Leadership Conference | Atlanta, GA |
| May 18, 2016 | 12th Annual Piedmont SCTE Golf Outing (Golf Registration Form – Page 4) | Springfield Golf Club – 639 Hambley House Lane, Ft. Mill, SC 29715 (Map) |
| May 19, 2016 | Broadband Technical Exhibition, Vendor Day, & Cable-Tec Games (Vendor Registration Forms) | Embassy Suites Charlotte/Arysley – 1917 Arysley Town Blvd., Charlotte, NC 28273(Map) |
| May 19, 2016 | Annual Technical Exhibition Luncheon & Keynote Speaker | Embassy Suites Charlotte/Arysley – 1917 Arysley Town Blvd., Charlotte, NC 28273 (Map) |
| July 20, 2016 | DOCSIS 3.1 – Operations & Testing | Charter Communications (Former TWC Location) – 900 Four Lakes Drive, Matthews NC 28105 (Map) |
| September 14, 2016 | Energy 2020 – What is it and Why is it Important? | Guilford Convention Center – 3114 Cedar Park Rd (I-40 Business, Lee St Exit), Greensboro NC 27506 (Map) |
| September 26-29, 2016 | SCTE Cable-Tec Expo 2016 | Philadelphia, PA |
| November 16, 2016 | Advanced Wireless Solutions – Where We've Been and Where We're Going | Comfort Suites – RTP – 5219 Page Road, Durham NC 27703 (Map) |
2015 Schedule
Date
Topics / Event
Location
21-Jan-2015
Network Security
Guilford Convention Center – 3114 Cedar Park Rd, Greensboro, NC 27405 (Map)
March 19, 2015
Hands-On Experience with Mini 59 Head-End Connector Training
Whitehall Corporate Center
3701 Arco Corporate Drive – Suite 105
Charlotte, NC 28273 (Map)
April 15-16, 2015
SCTE Chapter Leadership Conference
St. Louis, MO
May 20, 2015
10th Annual Piedmont SCTE Golf Outing (Golf Registration Form – Page 4)
The Divide Golf Club 6803 Stevens Mill Rd, Matthews, NC 28104 (Map)
May 21, 2015
Broadband Technical Exhibition, Vendor Day, and Cable-Tec Games (Vendor Registration Forms)
Charlotte Crowne Plaza 5700 Westpark Drive Charlotte, NC 28217 (Map)
May 21, 2015
Annual Technical Exhibition Luncheon & Keynote Speaker
Charlotte Crowne Plaza 5700 Westpark Drive Charlotte, NC 28217 (Map)
July 15, 2015
Fiber Optic Network Architectures & Installation Best Practices
Comfort Suites RTP – 5119 Page Road, Durham NC (Map)
September 16, 2015
SCTE Standards: OSP & Energy 2020 – How They Apply to Products and Practices
Whitehall Corporate Center – Bldg #4, 3701 Arco Corporate Drive – Suite 105, Charlotte, NC 28273 (Map)
Oct 13-16, 2015
SCTE Cable-Tec Expo 2015
New Orleans, LA
November 2015
Technical Session – CCAP With Video & Annual Membership Meeting
Comporium Communications – 471 Lakeshore Parkway, Rock Hill, SC 29730 (Map)
2014 Schedule
Date
Topics / Event
Location
21-Jan-2014
Annual Meeting, Troubleshooting Techniques, and Home Certification
Time Warner Cable – 3140 W. Arrowood Rd, Charlotte, NC 28273 (Map)
3-April-2014
Empowering WiFi Technology in Hospitality and Business Networks
Compas
305 E. Union Street, Morganton, NC (Map)
09-April-2014 – 10-April-2014
Piedmont Chapter hosts
SCTE Chapter Leadership Conference
Charlotte, NC
(Sponsor our Closing Reception)
07-May-2014
9th Annual Piedmont SCTE Golf Outing
Golf Registration Form
Emerald Lake Golf Club
9750 Tournament Drive
Matthews, NC 28104 (Map)
08-May-2014
Broadband Technical Exhibition, Vendor Day, and Cable-Tec Games
Vendor Registration Form
Crowne Plaza Charlotte Executive Park
5700 Westpark Drive
Charlotte, NC 28217 (Map)
08-May-2014
Luncheon – Meet the Region 10 Representative Candidates and Watch All-Star Cable Jeopardy
Crowne Plaza Charlotte Executive Park
5700 Westpark Drive
Charlotte, NC 28217 (Map)
31-July-2014
CCAP: Are You Ready? (in conjunction with the Delaware Valley Appalachian and New England Chapters) and DOCSIS 3.1 Overview
Comfort Suites RTP
5219 Page Road
Durham, NC 27703 (Map)
22-Sep-2014 – 25-Sep-2014
SCTE Cable-Tec Expo
Denver, CO
23-Oct-2014
Safety Training
Suddenlink Communications
2120 W. Arlington Blvd
Greenville, NC 27834 (map)
2013 Schedule
| Date | Topics / Event | Location |
| --- | --- | --- |
| 16-Jan-2013 | SCTE Certifications & Cable Basics | Oak Ridge United Methodist Church – 2424 Oak Ridge Road, Oak Ridge, NC 27310 (Map) |
| 20-March-2013 | Out of Spec Modems | Compas – 305 E Union St, Morganton, NC 28655 (Map) |
| 01-May-2013 | 8th Annual Piedmont SCTE Golf Outing (Golf Registration Form) | Tega Cay Golf Club – 15038 Molokai Drive, Tega Cay, SC 29708 (Map) |
| 01-May-2013 | 2nd Annual Piedmont SCTE Board of Directors Managers Reception | Hilton Charlotte Executive Park – 5624 Westpark Dr, Charlotte NC 28217 (Map) |
| 02-May-2013 | Broadband Technical Exhibition, Vendor Day, and Cable-Tec Games See the Agenda & Training Opportunities | Hilton Charlotte Executive Park – 5624 Westpark Dr, Charlotte NC 28217 (Map) |
| 02-May-2013 | Keynote Luncheon and Panel Session | Hilton Charlotte Executive Park – 5624 Westpark Dr, Charlotte NC 28217 (Map) |
| 17-July-2013 | All About the Plant! | Comfort Suites RTP – 5219 Page Road, Durham, NC 27703 (Map) |
| 17-Sep-2013 | CATV Standby Power Supplies | Time Warner Cable – 2321 Scientific Drive, Wilmington, NC 28405 (Map) |
| 20-Nov-2013 | All About PON (Passive Optical Networks) | Hampton Inn – Dunn, NC (Map) |
2012 Schedule
| Date | Topics / Event | Location |
| --- | --- | --- |
| 18-Jan-2012 | DOCSIS 3 Technical Session | Time Warner Cable Regional Operations Center – Morrisville, NC (Map) |
| 21-March-2012 | Next Generation Home Entertainment Experience | Guilford Convention Center – 3114 Cedar Park Rd (I-40 Business exit 85-Lee St), Greensboro, NC (Map) |
| 02-May-2012 | 7th Annual Piedmont SCTE Golf Outing (Registration Form) | Highland Creek Golf Club – Charlotte, NC (Map) |
| 02-May-2012 | Piedmont SCTE Board of Directors Managers' Reception | Sheraton Charlotte Airport Hotel – 3315 Scott Futtrell Drive, Charlotte NC (Map) |
| 03-May-2012 | Technical Exhibition, Vendor Day, and Cable-Tec Games (Agenda) | Sheraton Charlotte Airport Hotel – 3315 Scott Futtrell Drive, Charlotte NC (Map) |
| 03-May-2012 | Technical Exhibition Luncheon with Special Guest Speaker | Sheraton Charlotte Airport Hotel – 3315 Scott Futtrell Drive, Charlotte NC (Map) |
| 22-May-2012 | Technician's Guide to the Broadband Distribution Network presented by CommScope | Compas Cable – 305 East Union St, Suite A-100 Morganton, NC 28655 (Map) |
| 18-July-2012 | New Technologies Appearing in the Commercial Fiber Access Network | TE Connectivity – 8000 Purfoy Road, Fuquay-Varina, NC 27526 (Map) |
| 19-Sep-2012 | Advanced Edge Network | Time Warner Cable – 7800 Crescent Executive Drive, Charlotte NC 28217 (Map) |
| 14-Nov-2012 | Advanced Field Engineering Technical Session | Comporium Tech Park Facility – 471 Lakeshore Parkway, Rock Hill, SC 29730 (Map) |
2011 Schedule